Are you looking forward to the Thanksgiving holiday? Extremely? That's fitting, since Thanksgiving is the holiday of extremes.
It's when 87 million Americans will burn 70 calories per hour sitting on the couch watching football players burn 544 calories per hour.
It's Americans' second favorite holiday, but 58% of them will nap through some of it.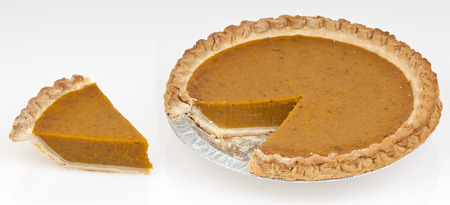 PumpkinPieWholeSlice. "Wikimedia Commons." commons.wikimedia.org 19 Nov. 2013.
Then there's the food. $2.3 billion spent on food nationally. 48 million turkeys, 50 million pumpkin pies, 40 million green bean casseroles (made, not eaten). An average of at least 2,500 calories per meal – after which someone might suggest taking a little stroll to "walk off the meal". Where are you walking to, Samoa?
One thing that's not as extreme as it once was: women doing the majority of the cooking. One survey revealed that 42% of men play a significant role in either preparing or cooking the turkey. (The survey didn't break down who was cooking the other 14 dishes, but we can guess at those numbers.)
Then there's the day after, "Black Friday". The day when millions get a start on holiday shopping by clawing through crowds and bargains, right? Nope. Research shows that most people are buying stuff for themselves. Guess the holiday spirit starts on Saturday.
Anyhow, ColemanWick is thankful – for everyone who reads our newsletters, for our wonderful clients, and for companies like Butterball and Dunkin' Donuts for spending the time and resources to ask survey questions about taking naps on Thanksgiving.